"🧘‍♀️✨ On retreats, delve deep into the philosophy of yoga. Exploring the Philosophy of Yoga in Retreats. 🌟 #YogaRetreats"
Yoga retreats, the tranquil havens of self-discovery, have evolved beyond their traditional role of physical practice. Amidst the sun salutations and serene landscapes, a deeper journey awaits – one that delves into the philosophical underpinnings of yoga. In this article, we unravel the layers of yoga philosophy and its integration into retreats, transforming the mat into a canvas of introspection and growth.
The Essence of Yoga Philosophy
Yoga, more than just physical postures, is a profound philosophy that transcends the mat. It's a path to holistic well-being, embracing the body, mind, and spirit in harmony. Let's delve into the foundational principles and the transformative eight limbs of yoga as outlined in Patanjali's Yoga Sutras.
🌟 Foundational Principles 🌟
1. Unity of Mind and Body: Yoga philosophy underscores the interconnectedness of mind, body, and spirit. It teaches that nurturing one aspect positively influences the others.
2. Inner Awareness: Yoga encourages self-awareness – a deep understanding of your thoughts, emotions, and actions – leading to personal growth.
3. Equanimity: Yoga philosophy promotes balance and equanimity, cultivating resilience and a calm mind even in the face of challenges.
4. Mindfulness: The practice of mindfulness in yoga philosophy helps you live fully in the present moment, fostering a deeper connection to life.
🌿 The Eight Limbs of Yoga 🌿
1. Yamas (Ethical Principles): These are moral guidelines, including non-violence, truthfulness, and self-control, fostering harmonious living.
2. Niyamas (Self-Discipline): Niyamas emphasize inner discipline and self-care, such as cleanliness, contentment, and self-study.
3. Asanas (Physical Postures): While popularized in the West, asanas are a small part of yoga philosophy, aiming to prepare the body for meditation.
4. Pranayama (Breath Control): The practice of breath control calms the mind and enhances vitality by harmonizing the breath.
5. Pratyahara (Withdrawal of Senses): Pratyahara teaches control over external stimuli, allowing you to turn inward and focus on the mind.
6. Dharana (Concentration): Concentration practices train the mind to focus on a single point, enhancing mental clarity and discipline.
7. Dhyana (Meditation): Meditation deepens self-awareness, connecting you with your inner essence and facilitating a state of tranquility.
8. Samadhi (Union): The pinnacle of yoga, samadhi is a state of profound bliss and oneness with the universe, transcending the ego.
🌈 Holistic Approach of Yoga 🌈
Yoga's beauty lies in its holistic approach, addressing the multi-dimensional nature of human existence.
1. Physical Well-being: Asanas and pranayama promote flexibility, strength, and vitality, fostering physical health.
2. Mental Well-being: Concentration, mindfulness, and meditation cultivate mental clarity, emotional resilience, and inner peace.
3. Spiritual Well-being: The eight limbs guide you towards spiritual growth, unveiling the depths of consciousness and oneness with the universe.
✨ Unveiling Your True Self ✨
Yoga philosophy is a journey of self-discovery, fostering balance, harmony, and alignment within yourself and with the universe. It's a profound philosophy that transcends the mat, infusing every aspect of life with mindfulness and purpose.
By embracing its principles and practices, you embark on a transformative path towards inner peace and fulfillment. 🌟🕉️
Yoga Retreats: More Than Physical Practices
Yoga retreats offer a journey that transcends the boundaries of physicality, inviting participants to delve into the depths of mind, body, and spirit. Beyond the asanas, these retreats provide a unique space to explore the rich tapestry of yoga philosophy, enhancing the experience in profound ways.
🌟 Beyond the Mat, Into Philosophy 🌟
1. Holistic Approach: Yoga retreats understand that yoga is a holistic practice encompassing physical, mental, and spiritual dimensions.
2. Deeper Connection: Exploring yoga philosophy opens doors to deeper self-understanding and connection to the world around you.
3. Inner Transformation: While asanas cultivate physical well-being, philosophy catalyzes inner transformation, fostering lasting change.
4. Mindful Awareness: Philosophy encourages mindful living, aligning your actions with your intentions for a more purposeful life.
📚 The Harmony of Philosophy and Practice 📚
1. Complementary Elements: Yoga philosophy and physical practice are two sides of the same coin, each enriching the other.
2. Expanding Horizons: Philosophy introduces participants to the roots of yoga, enhancing appreciation for its rich heritage.
3. Enhanced Mind-Body Connection: Understanding philosophy deepens your awareness of the mind-body connection, enriching your practice.
4. Meaningful Practice: When asanas are accompanied by philosophy, they take on a deeper significance, becoming a form of moving meditation.
🌈 Enriching the Retreat Experience 🌈
1. Inner Exploration: Philosophy discussions offer moments of self-reflection, complementing the self-discovery nature of retreats.
2. Shared Wisdom: Engaging with philosophy fosters a sense of community as participants share insights and perspectives.
3. Mindful Living: The philosophies learned during retreats continue to impact daily life, fostering mindfulness and balance.
4. Long-lasting Impact: The lessons from philosophy resonate long after the retreat, influencing personal growth and well-being.
✨ The Wholeness of Yoga Retreats ✨
Yoga retreats stand as a holistic journey, nurturing not only the physical body but also the mind and soul. When yoga philosophy intertwines with physical practice, the retreat experience becomes an intricate tapestry of self-discovery, mindful living, and inner transformation.
As you step onto the mat and delve into philosophy, you embark on a transformative voyage that awakens your true potential and brings harmony to every facet of your being. 🌟🕉️
Incorporating Philosophy into Retreats
Retreat organizers are weaving the profound threads of yoga philosophy into their offerings, creating a holistic experience that transcends physical practice. Let's delve into how philosophy sessions are seamlessly integrated, the myriad benefits they bring, and some specific topics that enrich the retreat journey.
🌟 Weaving Philosophy Into Retreats 🌟
1. Guided Discussions: Retreat leaders facilitate discussions that delve into key aspects of yoga philosophy, creating a space for exploration and inquiry.
2. Interactive Workshops: Philosophy workshops provide an opportunity for participants to dive deep into specific concepts, guided by experienced instructors.
3. Mindful Meditation: Philosophy-infused meditation sessions offer a contemplative space to reflect on philosophical teachings and internalize them.
4. Reflective Practices: Retreat schedules may include journaling sessions, allowing participants to process and integrate philosophical insights.
🌈 Benefits of Including Philosophy Discussions 🌈
1. Deeper Understanding: Philosophy sessions unlock the essence of yoga, fostering a deeper understanding of its origins and principles.
2. Inner Reflection: Participants engage in introspection, aligning their thoughts and actions with the philosophical teachings.
3. Holistic Growth: Philosophy complements physical practice, nurturing personal growth on mental, emotional, and spiritual levels.
4. Sense of Unity: Engaging in philosophical discussions fosters a sense of community and shared exploration among participants.
5. Practical Application: Philosophy sessions provide tools for mindful living, allowing participants to incorporate teachings into daily life.
📚 Examples of Enriching Philosophical Topics 📚
1. The Eight Limbs of Yoga: Delve into Patanjali's Yoga Sutras, exploring each limb and its relevance to modern life.
2. The Concept of Dharma: Reflect on the concept of one's duty or dharma and how it aligns with personal and societal well-being.
3. Karma and Mindfulness: Explore the interplay between karma (action) and mindfulness, understanding how choices shape reality.
4. Self-Discovery: Reflect on the journey of self-discovery, diving into the layers of the self and the connection to the universe.
5. Living with Intention: Discuss the importance of living intentionally, making conscious choices aligned with personal values.
✨ Enriching Retreats Through Philosophy ✨
Incorporating philosophy into retreats elevates the experience from a physical journey to a holistic exploration of self and existence.
By intertwining philosophy discussions, workshops, and practices, retreat organizers create an intricate tapestry that nurtures personal growth, inner reflection, and mindful living.
As participants engage in these profound conversations, they embark on a transformative voyage that deepens their connection to yoga's timeless wisdom and its application in the modern world. 🌟🕉️
Mindfulness and Meditation
Mindfulness and meditation stand as the cornerstone of yoga philosophy, serving as powerful tools that bridge the gap between the physical and spiritual realms. These practices weave seamlessly into the fabric of philosophy, enriching the retreat experience with their profound impact on the mind, body, and soul.
🌟 The Essence of Mindfulness and Meditation 🌟
1. Cultivating Present-Moment Awareness: Mindfulness directs your attention to the present moment, fostering a deep connection with your immediate experience.
2. Nurturing Inner Stillness: Meditation takes you beyond the noise of the mind, offering glimpses of inner stillness and tranquility.
3. Self-Exploration: Mindfulness and meditation provide a canvas to explore your thoughts, emotions, and the underlying currents of your consciousness.
4. Connection to the Universe: Through these practices, you tap into a sense of interconnectedness with the universe, dissolving boundaries.
📚 The Fusion of Practice and Philosophy 📚
1. Mindful Living: Philosophy encourages the integration of mindfulness into daily life, aligning actions with conscious intention.
2. Inner Journey: Philosophy and meditation together guide participants on an inner journey of self-discovery and self-realization.
3. Introspective Wisdom: Philosophy provides the context for deeper understanding, while meditation allows you to experience the teachings within yourself.
4. Embodied Philosophy: Through mindfulness, you embody philosophical concepts, allowing them to come alive in your thoughts and actions.
🌈 The Impact on Retreat Participants 🌈
1. Heightened Awareness: Mindfulness sharpens participants' awareness, enriching their experiences during retreat activities.
2. Inner Tranquility: Meditation sessions offer moments of serenity, allowing participants to recharge amidst the retreat's offerings.
3. Deeper Reflection: Mindfulness fosters deeper introspection, amplifying the impact of philosophy discussions and self-inquiry.
4. Transformational Insights: The combination of philosophy, mindfulness, and meditation leads to transformative insights that ripple into daily life.
✨ The Alchemy of Mindfulness and Meditation ✨
Mindfulness and meditation are the threads that weave together the intricate tapestry of yoga philosophy. They embody the teachings, allowing participants to experience the profound concepts in tangible ways.
As retreat-goers engage in mindfulness practices and meditation sessions, they embark on a journey of self-discovery, inner stillness, and soulful connection. The impact resonates far beyond the retreat, infusing everyday life with a sense of mindfulness, presence, and a deeper understanding of the self and the universe. 🌟🕉️
Understanding the Self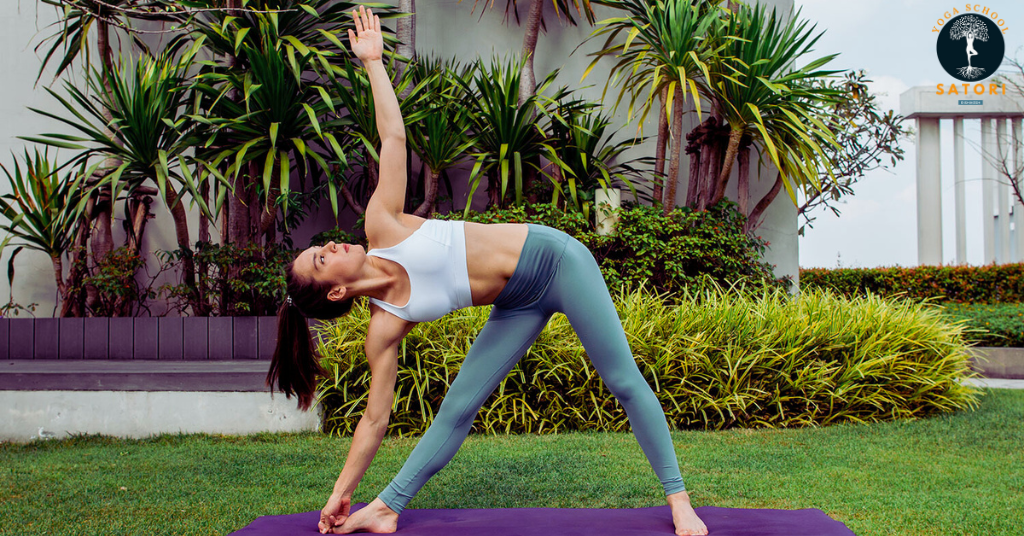 In the tapestry of yoga philosophy, self-awareness emerges as a luminous thread, guiding practitioners on a journey of profound introspection. Retreats, infused with the spirit of self-inquiry, provide a sacred space for individuals to embark on this transformative voyage of understanding the self.
🌼 Unveiling Self-Awareness 🌼
1. Self as the Center: Yoga philosophy teaches that true growth begins with understanding oneself – peeling away layers to reveal the authentic self.
2. Witnessing the Mind: Self-awareness involves observing your thoughts, emotions, and reactions without judgment, fostering a deep connection to your inner landscape.
3. Aligning with Values: Self-awareness aligns your actions with your core values, leading to a life that resonates with authenticity and purpose.
4. Embracing Imperfection: Through self-awareness, you embrace your flaws and vulnerabilities, fostering self-compassion and acceptance.
📚 Retreats: A Sanctuary for Self-Inquiry 📚
1. Guided Reflection: Retreats offer structured sessions for introspection, guiding participants to explore their beliefs, desires, and fears.
2. Mindful Practices: Mindfulness activities, meditation, and journaling provide tools to delve into the depths of the self.
3. Group Sharing: Discussions with fellow retreat-goers create a supportive environment, allowing for shared insights and perspectives.
4. Philosophical Dialogues: Engaging in philosophical conversations fosters a deeper understanding of oneself in relation to timeless wisdom.
🌈 Stories of Self-Discovery 🌈
1. The Quest for Authenticity: Jane, a retreat participant, delved into philosophy discussions during a retreat. The concepts resonated deeply, inspiring her to align her career with her true passions, leading to a more fulfilling life.
2. Embracing Vulnerability: John, through mindfulness practices, confronted his inner struggles. With newfound self-awareness, he opened up to others, forging meaningful connections and a sense of belonging.
3. Journey of Healing: Emily, during a retreat's meditation sessions, confronted past traumas. The process of self-inquiry and meditation became a catalyst for her emotional healing journey.
4. Rediscovering Purpose: Michael, through self-reflection, realized he had drifted away from his values. This awareness inspired him to make intentional changes, reigniting his sense of purpose.
✨ The Radiance of Self-Discovery ✨
In the tapestry of yoga philosophy, the concept of self-awareness gleams like a jewel, inviting you to embark on an inward journey of understanding, acceptance, and growth.
Retreats, adorned with practices of self-inquiry, nurture this process, providing a nurturing space where self-awareness blossoms.
Through guided introspection, shared dialogues, and philosophical insights, participants craft a deeper connection with their inner selves, unraveling layers to reveal their true essence. The stories of Jane, John, Emily, and Michael reflect the transformative power of self-discovery, illustrating that retreats aren't just journeys of physicality, but profound odysseys of the soul. 🌟🕉️
Living Yoga Off the Mat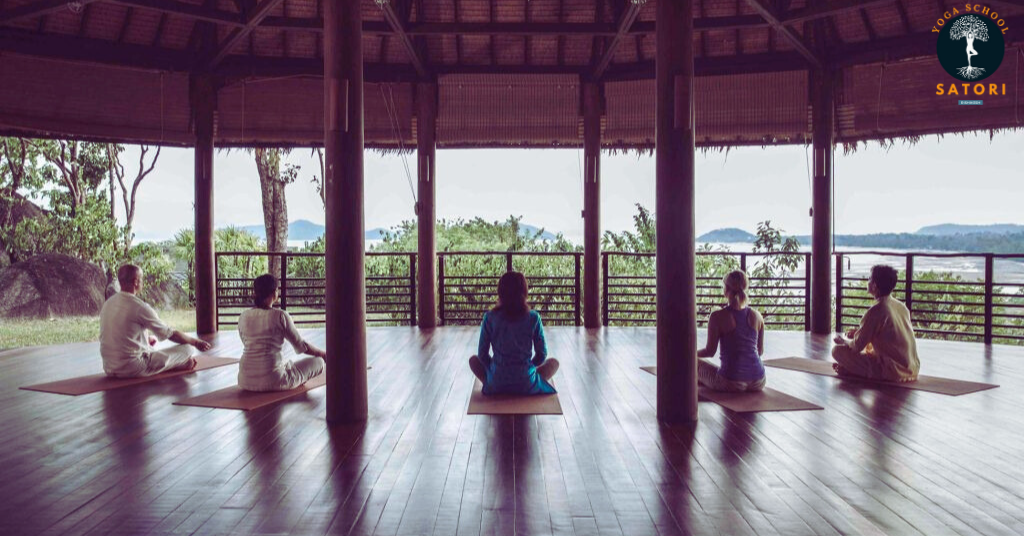 Yoga philosophy transcends the confines of the mat, offering a guiding light for navigating the complexities of daily life. Retreats, infused with these teachings, empower participants to weave philosophy into their everyday existence, fostering a balanced and mindful lifestyle.
🌼 Practical Applications of Yoga Philosophy 🌼
1. Mindful Presence: Carry the essence of mindfulness off the mat, engaging fully in each moment and savoring life's experiences.
2. Self-Compassion: Embrace self-compassion in times of challenge, treating yourself with the same kindness you extend to others.
3. Intentional Living: Apply the principle of intentionality to your actions, aligning them with your values and aspirations.
4. Non-Judgmental Awareness: Observe your thoughts without judgment, cultivating a sense of detachment and inner peace.
5. Gratitude: Infuse your days with gratitude, acknowledging the beauty in both simple and profound aspects of life.
📚 Extending Retreat Teachings Beyond 📚
1. Regular Practice: Dedicate time daily for meditation, self-reflection, or mindfulness practices learned during the retreat.
2. Journaling: Continue journaling to document your journey, insights, and the integration of philosophy into your life.
3. Study Circles: Form study groups or online discussions to delve deeper into philosophy with fellow retreat participants.
4. Mindful Choices: Make conscious choices aligned with philosophy, whether in relationships, diet, or daily routines.
5. Patience and Persistence: Understand that integrating philosophy takes time; practice patience as you strive for consistent growth.
🌈 Tips for a Balanced and Mindful Lifestyle 🌈
1. Morning Rituals: Begin your day with a few moments of meditation, setting a calm and focused tone for the day ahead.
2. Mindful Eating: Savor each bite, eating slowly and appreciating the nourishment your food provides.
3. Digital Detox: Allocate device-free hours to reconnect with the world around you and nurture your mental well-being.
4. Nature Connection: Spend time in nature, whether through walks, hikes, or simply sitting outdoors, grounding yourself in the present.
5. Breath Awareness: Throughout the day, pause to take a few conscious breaths, centering yourself and inviting calm.
✨ Embodied Wisdom Beyond the Retreat ✨
Yoga philosophy extends its embrace far beyond retreat boundaries, offering a blueprint for conscious living. As you step off the mat and into daily life, carry the teachings with you, making them an integral part of your being.
By applying mindfulness, self-compassion, intentional living, and gratitude, you infuse each moment with purpose and presence. As you navigate life's ebb and flow, the essence of retreat teachings becomes a guiding star, illuminating the path to a balanced, mindful, and soul-enriching existence. 🌟🕉️
The Transformative Journey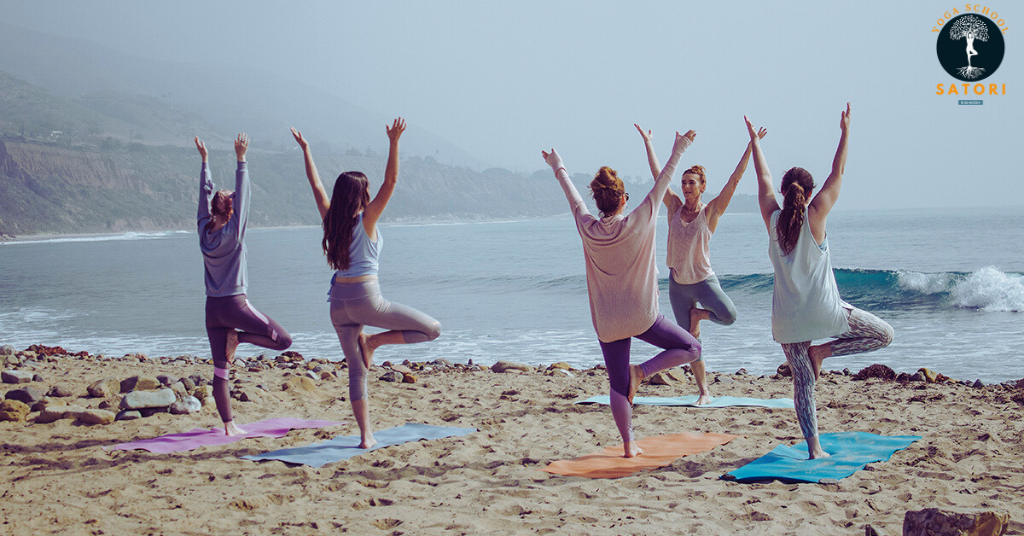 Delving into the depths of yoga philosophy unveils a transformative path that goes beyond the physical, touching the very essence of your being. Retreats, graced with philosophical discussions, offer a unique platform for participants to embark on this journey, igniting shifts in perspectives, beliefs, and personal growth.
🌼 Unveiling Transformative Potential 🌼
1. Inner Revolution: Yoga philosophy serves as a catalyst for inner revolution, sparking profound shifts in how you perceive yourself and the world.
2. Embracing Change: Philosophical exploration encourages embracing change as a constant in life, fostering adaptability and resilience.
3. Liberation from Conditioning: Philosophy challenges conditioned beliefs, liberating you from limiting thought patterns and encouraging open-mindedness.
4. Aligning with Truth: As you delve deeper, you align with your authentic self, shedding layers of societal expectations and discovering your truth.
📚 Philosophy's Power to Shift Perspectives 📚
1. Questioning Assumptions: Philosophy encourages questioning assumptions, leading to a more critical and discerning approach to life.
2. Expansion of Consciousness: Philosophical insights expand your consciousness, inviting you to see beyond the surface of situations.
3. Embracing Paradox: Philosophy introduces you to paradoxes, teaching the art of holding opposing truths without cognitive dissonance.
4. Dissolving Ego: Through self-inquiry, philosophy aids in dissolving the ego, creating space for humility and interconnectedness.
🌈 Personal Growth Through Philosophical Exploration 🌈
1. Sarah's Story: Engaging in philosophical dialogues during a retreat, Sarah shifted from career-driven to purpose-driven, channeling her energy into meaningful work that aligned with her values.
2. Mark's Insight: Mark's perception of success transformed as he dived into philosophical discussions. He realized that success wasn't solely material; it encompassed inner peace and contentment.
3. Emily's Revelation: Through philosophy, Emily released the grip of perfectionism, embracing imperfections as part of her unique journey, leading to enhanced self-acceptance.
4. Alex's Perspective: Alex's worldview expanded during retreat philosophy sessions, prompting him to view adversity as opportunities for growth and transformation.
✨ The Alchemy of Personal Transformation ✨
Yoga philosophy's transformative potential lies in its ability to shake the foundations of your beliefs, inviting you to reconstruct your perspectives on life.
Retreats become crucibles of growth, where philosophical discussions act as catalysts for profound shifts in consciousness.
The stories of Sarah, Mark, Emily, and Alex showcase how diving into philosophy leads to personal evolution, enhancing self-awareness, and propelling individuals toward a more meaningful, authentic, and enlightened existence.
As you journey through these philosophical landscapes, you unlock the door to profound inner transformation, ultimately embodying the essence of the transformative journey. 🌟🕉️
Connecting with Ancient Wisdom
The treasure trove of ancient yogic texts and teachings stands as a testament to the timeless wisdom that transcends generations. Retreats, acting as portals to these profound philosophies, offer participants a rare opportunity to connect with this rich heritage, accessing insights that resonate deeply across the modern landscape.
🌼 Delving into Ancient Yogic Wisdom 🌼
1. Wisdom Passed Down: Ancient yogic texts, such as the Bhagavad Gita and Yoga Sutras, encapsulate the distilled wisdom of sages and seekers from centuries past.
2. Universal Truths: These teachings reveal universal truths that navigate the intricacies of human existence, addressing both the mundane and the spiritual.
3. Practical Guidance: Ancient texts provide practical guidelines for living a purposeful, balanced life, fostering well-being and harmony.
4. Profound Philosophies: The richness of ancient wisdom spans diverse aspects, from self-realization to ethics, illuminating the human experience.
📚 Retreats: A Glimpse into Timeless Wisdom 📚
1. Guided Explorations: Retreat leaders facilitate explorations of ancient texts, deciphering their layers and making their teachings accessible.
2. Philosophical Immersion: Participants engage in immersive discussions, unpacking the profundity of these teachings and relating them to their lives.
3. Practical Application: Retreats bridge the gap between ancient wisdom and modern reality, making the teachings relevant and applicable.
4. Personalized Insights: Participants interpret ancient texts through their unique lenses, fostering personal insights and transformative realizations.
🌈 Ancient Wisdom in the Modern World 🌈
1. Inner Harmony: Ancient teachings guide individuals to navigate inner conflicts, fostering emotional balance in today's fast-paced world.
2. Mindful Living: These teachings encourage mindful living, helping individuals navigate distractions and cultivate presence.
3. Ethical Compass: Ancient wisdom offers a moral compass that guides ethical choices, nurturing a just and compassionate society.
4. Meaningful Existence: The teachings infuse life with purpose, encouraging individuals to seek fulfillment beyond material pursuits.
✨ A Bridge Across Time ✨
Ancient yogic wisdom is a bridge that spans the chasm of time, connecting the seekers of today with the insights of ancient sages. Retreats, with their focus on philosophy, offer a glimpse into this rich heritage, allowing participants to absorb and apply these teachings in their contemporary lives.
As you immerse yourself in these timeless philosophies, you not only honor the wisdom of the ages but also discover how the essence of these teachings illuminates your path, guiding you toward a life of purpose, mindfulness, and profound inner harmony. 🌟🕉️
Community and Shared Learning
Within the realm of retreats, the communal spirit ignites a unique dimension of philosophical discussions. The power of shared learning and group reflections creates a transformative space, where participants weave their insights together, fostering a tapestry of collective growth.
🌼 Embracing the Communal Aspect 🌼
1. Gathering of Minds: Retreats gather individuals from diverse backgrounds, uniting them under the shared pursuit of wisdom.
2. Exchanging Perspectives: Group discussions invite participants to share their unique perspectives, enriching the exploration of philosophical concepts.
3. Nurturing Empathy: Engaging with others' viewpoints fosters empathy, deepening the understanding of different paths to truth.
4. Collaborative Exploration: The community becomes a collaborative vessel, where collective wisdom uplifts every individual's journey.
📚 The Power of Shared Learning 📚
1. Amplifying Insights: Shared learning amplifies individual insights, as each person's understanding contributes to a more holistic understanding.
2. Expanding Horizons: Participants are exposed to diverse interpretations, expanding their horizons beyond their own perspectives.
3. Clarifying Concepts: Group discussions allow for clarifications and deeper explorations of complex philosophical notions.
4. Reflective Mirroring: Group interactions act as mirrors, reflecting back personal insights and fostering self-awareness.
🌈 Enriching Philosophical Exploration Together 🌈
1. The Ripple Effect: In a retreat dialogue, Sarah's inquiry sparked a chain reaction of thoughts, leading to a profound collective realization about impermanence.
2. Shared Vulnerability: During a discussion on self-compassion, Mark's vulnerability encouraged others to open up, creating a safe space for authentic sharing.
3. Paradigm Shift: Emily's insights challenged conventional beliefs within the group, resulting in a paradigm shift that rippled through the entire retreat experience.
4. Transformational Unity: Alex's connection with another participant's story unveiled the interconnectedness of struggles, fostering a sense of unity and empathy.
✨ The Communal Tapestry of Growth ✨
Philosophical discussions within retreats thrive within the communal embrace. Shared learning and group reflections transform these conversations into journeys of collective growth.
As participants come together, weaving their insights and experiences, they create a tapestry that encompasses diverse perspectives, profound realizations, and transformative unity.
The stories of Sarah, Mark, Emily, and Alex illuminate the transformative power of communal engagement, revealing how group interactions enrich individual exploration and create a dynamic space for wisdom to flourish. 🌟🕉️
Challenges and Insights
Navigating the realms of philosophy within retreats can be both enlightening and challenging. As participants delve into complex concepts, they might encounter intellectual barriers. Yet, with strategies to overcome these challenges and insights from seasoned retreat leaders, the journey of philosophical exploration becomes an enriching experience.
🌼 Addressing Potential Challenges 🌼
1. Abstract Concepts: Philosophy often deals with abstract notions that can seem distant from everyday life, making initial understanding challenging.
2. Language Barrier: The specialized language of philosophy might feel overwhelming, especially for those new to its terminology.
3. Paradoxes and Ambiguities: Philosophical discussions may present paradoxes and ambiguities that challenge conventional modes of thinking.
4. Depth of Inquiry: Delving into profound questions can trigger discomfort or confusion, as individuals question their beliefs and assumptions.
📚 Strategies for Engagement 📚
1. Start with Relevance: Begin with philosophical concepts that directly relate to participants' lives, creating a tangible entry point.
2. Relate to Personal Experiences: Encourage participants to connect philosophical ideas to their own experiences, bridging the gap between theory and reality.
3. Break Down Complexities: Deconstruct intricate concepts into digestible parts, allowing participants to gradually build understanding.
4. Foster Discussion: Create a supportive environment where questions and doubts are welcomed, fostering open dialogue and shared exploration.
🌈 Insights from Experienced Retreat Leaders 🌈
1. Laura's Wisdom: "Guide participants gently, acknowledging that philosophy is a journey, not a destination. Encourage them to embrace confusion and uncertainty as stepping stones to clarity."
2. Raj's Perspective: "Offer real-world examples to illustrate complex concepts. Visual analogies and relatable stories help participants grasp abstract ideas."
3. Emma's Approach: "As leaders, our role is to facilitate, not to provide all the answers. Encourage participants to engage with each other's interpretations, fostering collaborative learning."
4. Carlos's Advice: "Create a safe space where participants feel comfortable sharing their perspectives, even if they differ. Diverse viewpoints enrich the philosophical dialogue."
✨ Transforming Challenges into Growth ✨
The path of philosophical exploration may have its obstacles, but within those challenges lie opportunities for profound growth. By addressing potential barriers head-on, participants can navigate abstract concepts, language barriers, and paradoxes with strategies that make the journey more accessible.
The insights from experienced retreat leaders remind us that philosophy is not about having all the answers but about engaging in meaningful dialogues that foster personal and collective wisdom.
As individuals and communities engage in these discussions, they transform challenges into stepping stones, enriching their understanding, broadening their perspectives, and embarking on a journey of profound intellectual and spiritual growth. 🌟🕉️
Conclusion for Exploring the Philosophy of Yoga in Retreats
As we unroll our mats on yoga retreats, we invite not only physical movement but also an exploration of the profound philosophy that shapes this ancient practice. The integration of philosophy elevates retreats from mere vacations to transformative journeys of the mind and spirit. Let us consider these retreats as portals, inviting us to explore the tapestry of our existence – one breath, one pose, and one philosophical insight at a time.
FAQs:
Do I need prior knowledge of yoga philosophy to attend a retreat?
Not at all. Retreats cater to all levels of familiarity with philosophy, making it accessible to both beginners and seasoned practitioners.
How do philosophy discussions impact my daily life after the retreat?
Philosophy discussions equip you with practical insights and tools to navigate challenges, make mindful choices, and cultivate a more conscious lifestyle.
Are philosophy sessions intense and serious?
Not necessarily. Philosophy sessions are often facilitated in a relaxed, engaging manner, encouraging open dialogue and shared reflections.
Can philosophy discussions be overwhelming for newcomers?
Retreat leaders structure discussions to be inclusive and beginner-friendly, breaking down complex ideas into relatable concepts.
How do I apply philosophical teachings outside the retreat context?
The teachings become a compass for daily life. By incorporating mindfulness, ethical considerations, and self-awareness, you extend the retreat's wisdom to your everyday experiences.