Welcome to Satori Yoga School, a serene Meditation Centre in Rishikesh near the phool chatti ashram.
Located in Rishikesh, the global hub for yoga, our centre offers a unique experience that combines tradition and innovation.
Imagine being surrounded by the Himalayan foothills, where the Ganges River shares ancient secrets and the breeze carries a transformative scent.
We are the top yoga ashram of 2023, and we have created an extraordinary environment. Our meditation center is a soulful playground, where traditional wisdom meets joyful exploration.
Our programs are led by experienced meditation practitioners and are suitable for everyone, from beginners to advanced.
You can learn different meditation techniques, like mindfulness and heart-centred practices, to understand yourself better.
Along with deep thinking, we also have enjoyable laughter sessions and interactive workshops to bring happiness to your spiritual journey.
What makes us different? We are committed to giving you a complete experience that goes beyond the sessions.
You will stay in luxurious accommodations, enjoy healthy organic food, and be part of a community of fellow adventurers.
You can share stories around the bonfire, connect with people who think like you, and find the support you need to grow internally.
Why should you choose our meditation centre in Rishikesh? We combine tradition and modernity to create an atmosphere that supports both meditation and joy.
Come to Satori Yoga School, the top yoga ashram in 2023, where you'll find peace, personal growth, and a bit of fun.
Best Meditation Centre in Rishikesh
Nestled in the land of flowers in India's Uttarakhand state lies Satori Yoga School, one of the best meditation centre in Rishikesh.
Our ashram offers serene accommodation amidst the mesmerizing Himalayas. Immerse yourself in various styles of yoga like Hatha and Iyengar yoga or indulge in ayurvedic treatments to achieve rejuvenation.
Practice pranayama and Vedic chanting to enhance your spirituality. Come to our yoga retreat and find peace away from daily life stressors.
Meditation Programs at Satori Yoga School
Welcome to Satori Yoga School, a peaceful place where meditation is taught. Our Meditation Programs help you find inner peace, creativity, and resilience.
Our meditation guides combine ancient techniques with modern knowledge to create a meaningful and easy experience.
Whether you're new to meditation or experienced, our programs are for everyone and make mindfulness enjoyable.
Our peaceful retreat in Rishikesh is surrounded by nature. We offer activities like guided walks and sound baths to help you feel calm and aware.
Our meditation sessions are fun and may include laughter yoga and nature activities. What makes us unique is our community of like-minded people who form deep connections. Friendships and conversations are just as important as the techniques we teach.
If you want to reduce stress, be more creative, and live a mindful life, our Meditation Programs can help. Choose Satori Yoga School for a transformative journey.
Experience the peaceful beauty of Rishikesh combined with the art of meditation. Find your inner sanctuary.
Benefits of Meditation at Satori Yoga School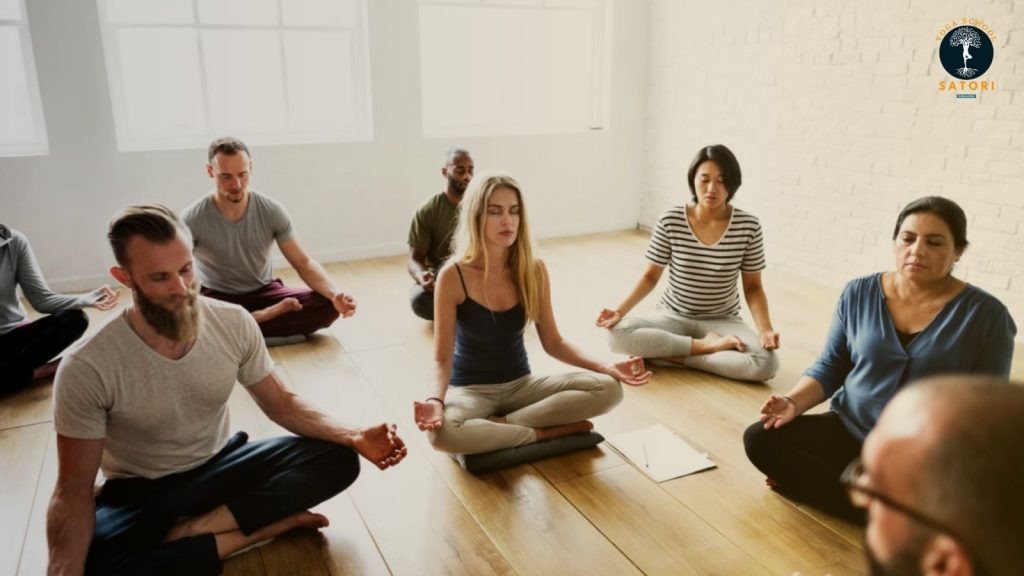 Hey there! Are you ready to embark on a journey towards inner peace and vibrant well-being? Look no further than Satori Yoga School's meditation programs.
We're not just about sitting cross-legged – we're all about guiding you towards a life filled with incredible benefits.
Imagine having a secret weapon to tackle the ups and downs of life – that's what meditation brings to the table.
Our expert meditation guides are like your personal mind wizards, teaching you techniques that help reduce stress, boost focus, and enhance your overall emotional balance.
But wait, there's more! Meditation isn't just about Zen moments; it's about tapping into your creativity and finding a serene oasis within.
Choosing our meditation programs means you're not just signing up for a class – you're opening the door to a lifestyle that's all about mindfulness, self-care, and positive transformation.
And guess what? You won't be alone on this journey. Our warm-hearted community of fellow explorers is here to share stories, support, and laughter.
Plus, with comfy accommodations and delicious, nourishing meals, your experience will be nothing short of amazing.
So why pick us? Because Satori Yoga School isn't just a place – it's a welcoming embrace that guides you towards a brighter, more balanced you.
Don't miss out on the chance to embrace a life filled with joy, inner harmony, and radiant well-being. Join us today and let's meditate our way to a happier you!
Why We Are Top Meditation Centre in Rishikesh
Satori Yoga School in Rishikesh offers a unique meditation experience with expert guidance and serene surroundings. Teachers guide students in exploring different meditation techniques, surrounded by the beauty of the Himalayas and the Ganges River.
Satori Yoga School offers a holistic approach to meditation by providing complementary practices such as yoga, sound healing, and mindfulness sessions. Individual attention and personalized guidance are given to tailor the practice according to each person's unique journey.
Our Meditation centre in Rishikesh offers a comprehensive curriculum covering different meditation techniques, ensuring that everyone finds the practice that resonates with them. Joining Satori Yoga School in Rishikesh provides a supportive and nurturing environment for self-discovery, inner peace, and personal growth.
Why Choose Satori Yoga Ashram
Expert guidance from experienced teachers well-versed in various meditation techniques
Tranquil setting surrounded by the majestic Himalayas and the soothing energy of the Ganges River
A holistic approach with complementary activities like yoga, mindfulness sessions, and sound healing
The diverse range of meditation techniques to suit individual preferences and needs
Supportive and nurturing environment for personal growth and self-discovery
Comprehensive curriculum covering mindfulness, transcendental meditation, loving-kindness meditation, and more
Emphasis on mind-body connection and holistic well-being
Reputation as a trusted and renowned meditation centre in Rishikesh
Personalized attention and tailored meditation practices for each individual
Accessible location in Rishikesh, the spiritual capital of India
Commitment to providing a transformative meditation experience
Positive testimonials and feedback from satisfied participants
Well-maintained facilities and comfortable meditation spaces
Dedication to creating a supportive community of like-minded individuals
Convenient retreat options with flexible schedules to accommodate diverse needs and preferences
Types of Meditation Course in Rishikesh
Satori Yoga School in Rishikesh offers a variety of meditation classes for all levels of yogis. Guided meditation and mindfulness meditation classes are available along with specialized classes such as chakra and transcendental meditation.
With the focus on finding the right fit for each student's needs and preferences, Satori Yoga School encourages exploration into different styles of yoga beyond hatha yoga. The divine land of Rishikesh is proud to host this beautiful centre that provides not only a peaceful environment but also accommodation options for those wanting to take a break from daily life.
Satori Yoga School offers 3 types of yoga retreats
Meditation and Yoga Retreat in Rishikesh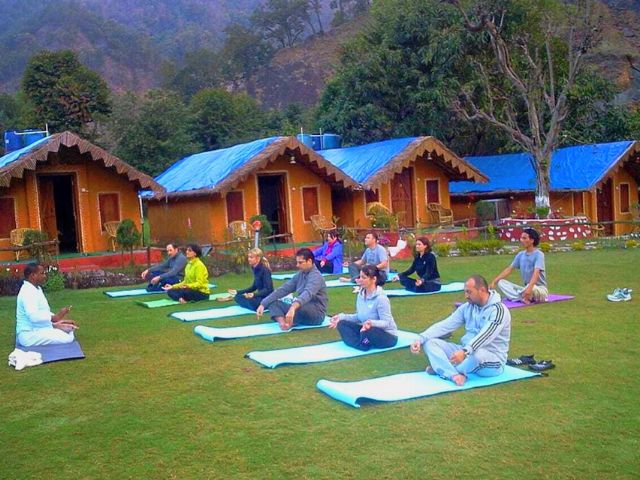 Satori Yoga School offers retreats in Rishikesh that combine traditional wisdom with modern practices for healing and self-discovery. The centre's tranquil environment enhances the meditative experience with lush greenery and soothing sounds of nature.
Highlights of Meditation and Yoga Retreat in Rishikesh
Various forms of yoga (Hatha, Vinyasa, Kundalini) are taught by experienced instructors
Yoga sessions include asanas, pranayama, and meditation techniques for physical strength and mental clarity
Holistic activities offered include visits to temples, Ayurvedic massages, group discussions, and spiritual discourses
Retreat packages are flexible to cater to guests' needs and preferences
Accommodation is provided in comfortable and serene surroundings, with vegetarian meals prepared with care.
Sound Healing Retreat in Rishikesh
Satori Yoga School in Rishikesh, India offers Sound Healing retreats using crystal bowls, gongs, tuning forks and other instruments. The practice helps release energy blockages and restore balance to the body. The retreat takes place in the serene beauty of nature and the sacred energy of the Ganges River.
Highlights of Sound Healing Retreat in Rishikesh
Participants will experience immersive sound baths inducing relaxation and inner peace
Guided meditations, breathwork, and healing rituals will amplify the transformative effects of sound therapy
Retreat packages include opportunities to explore the spiritual and cultural riches of Rishikesh
Flexible retreat options to accommodate schedules and preferences are available
Experience the profound benefits of sound therapy and reconnect with your true essence for well-being and spiritual growth
Himalayan Hiking Retreat
Satori Yoga School offers a Himalayan Hiking Retreat that provides a spiritual and rejuvenating experience. The retreat caters to all fitness levels with carefully curated hiking routes.
Highlights of the Himalayan Hiking Retreat
Satori Yoga School offers Himalayan Hiking Retreat in Rishikesh and surrounding areas
Guides share a cultural and spiritual heritage
The retreat includes expert guidance, hiking equipment, comfortable accommodation, yoga, meditation, and healing treatments
Locally sourced healthy meals provided
Friendly staff provide personalized attention
The retreat offers the opportunity to reconnect with your inner self and create lifelong memories.
Accommodation in Satori Yoga School
Satori Yoga School in Rishikesh offers meditation practices and comfortable accommodation options for a peaceful retreat. They prioritize providing a nurturing space for transformation.
The meditation centre in Rishikesh offers different accommodation options for varying budgets and preferences. The spaces are clean and well-maintained, providing a serene atmosphere for meditation practice.
The rooms are designed for comfort, with cosy beds, natural lighting, and essential amenities. Guests can relax and rejuvenate after meditation and self-reflection. The environment supports overall well-being, ensuring a peaceful stay.
The meditation centre in Rishikesh offers access to spiritual and cultural treasures such as ancient temples and the Ganges River.
Our Meditation centre in Rishikesh offers communal spaces for participants to connect, share experiences and build a community. It provides exceptional meditation practices, comfortable accommodations and a balance of tranquillity, comfort and community.
Testimonials from Meditators at Satori Yoga School
Meditation at Satori Yoga School in Rishikesh has brought transformational changes in the lives of its practitioners. Regular practice of different styles of yoga like hatha yoga and pranayama combined with meditation helps yogis rejuvenate and experience relaxation.
Meditators testified a reduction in stress levels and improved mental clarity at Satori Yoga School; they were able to connect with themselves better through daily life practices like chanting mantras or listening to Vedic teachings.
The serene environment of Satori Yoga School nestled in the land of flowers on the banks of river Ganga provides an ideal setting for deepening one's connection with spirituality.

Frequently Asked Questions For Meditation Centre in Rishikesh
What is the history and significance of meditation courses in Rishikesh?
Rishikesh is a spiritual centre and the "Yoga Capital of the World." The Beatles studied transcendental meditation there in 1968.
Many gurus and ashrams offer meditation and yoga practices, and the sacred Ganges river adds to the area's significance.
What are the benefits of attending a meditation centre in Rishikesh like Satori Yoga School?
Satori Yoga School in Rishikesh offers a supportive community to enhance your meditation practice. Regular meditation can help reduce stress and anxiety, improve mental clarity, and focus.
The centre provides various techniques tailored to your needs, making it an excellent choice for those on a spiritual path.
Are there any accommodations or amenities available for those attending a meditation retreat at Satori Yoga School Uttarakhand?
Satori Yoga School provides comfortable accommodations with amenities like free Wi-Fi, hot water, and organic vegetarian meals. The retreat centre is surrounded by nature for a tranquil meditation experience.
Yoga classes, Ayurvedic treatments, and other wellness activities are also available to enhance the retreat.
What types of meditation practices with Ayurveda are offered at Satori Yoga School?
Satori Yoga School provides an array of meditation practices, such as Vipassana, Transcendental Meditation, and Kundalini. They offer both mindfulness and guided meditation along with yoga classes for all levels. Speak with the instructors to discover the best meditation option for your needs.
Why is Rishikesh considered a popular destination for meditation and pranayama, yoga asana enthusiasts?
Rishikesh is popular among meditation and yoga enthusiasts due to its title as the Yoga Capital of the World, coupled with its rich ancient culture.
The Ganges River's divine healing powers and the numerous ashrams and meditation centres provide a serene location for spiritual practices.
What is the importance of meditation practice in a meditation centre in Rishikesh?
Regular meditation practice is essential to reduce stress and anxiety, improve focus and concentration, increase feelings of well-being and happiness, and attain greater self-awareness and self-realization. Consistency is key to experiencing the full benefits of meditation.
How To Reach Meditation Centre
Getting to Satori Yoga School, the esteemed meditation centre in Rishikesh is a straightforward and accessible journey. Whether you are arriving from within India or from abroad, we provide you with the necessary information to reach us and embark on your transformative meditation retreat.
By Air: If you travel from outside India, the closest international airport is Indira Gandhi International Airport in Delhi. From there, you can take a domestic flight to Jolly Grant Airport in Dehradun, which is the nearest airport to Rishikesh. Upon arrival at the airport, you can easily hire a taxi or take a pre-arranged transportation service to reach our meditation centre.
By Train: Rishikesh is well-connected by train, and the nearest railway station is Rishikesh Railway Station. From major cities in India, you can find regular trains that run to Rishikesh. Once you arrive at the railway station, you can hire a taxi or use local transportation to reach our meditation centre conveniently.
By Road: Rishikesh is well-connected by road networks, making it easily accessible by bus or private car. You can choose to drive yourself or opt for bus services that operate from various cities in India to Rishikesh. The roads leading to Rishikesh offer scenic views, allowing you to enjoy the journey as you make your way to our meditation centre.
At Satori Yoga School, our dedicated team is available to assist you with any travel-related queries and can provide detailed directions to reach us. As a renowned meditation centre in Rishikesh, we are committed to ensuring your journey to our centre is seamless, allowing you to focus on your meditation practice and personal growth.