Bhujangasana (Cobra Pose) – Detailed Guide and Benefits: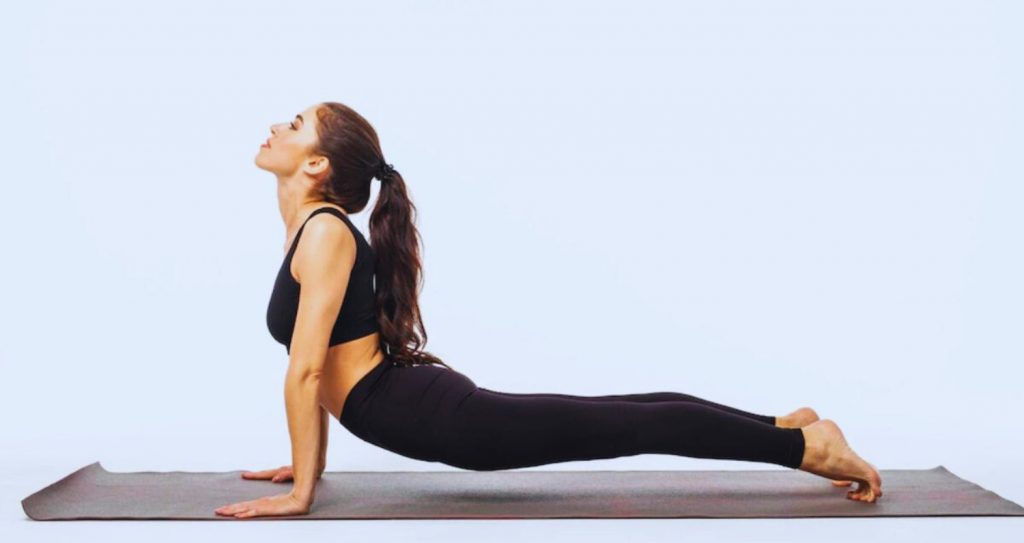 Introduction:
Bhujangasana, commonly referred to as the Cobra Pose, holds a significant place among yoga practitioners due to its foundational nature and the resemblance it bears to the elevated hood of a cobra. This pose, integral to numerous yoga sequences, stands renowned for its revitalizing and invigorating outcomes.
It holds a primary objective of unfurling the chest, elongating the spine, and fortifying the muscles of the back. The posture not only amplifies physical flexibility and strength but also serves as a catalyst for a sense of rejuvenation.
Emphasizing the chest's expansion and the spine's elongation, Bhujangasana extends its multifaceted benefits to those who integrate it into their practice, portraying the harmonious fusion of the body's potential and the timeless wisdom of yoga.
Steps to Practice Bhujangasana: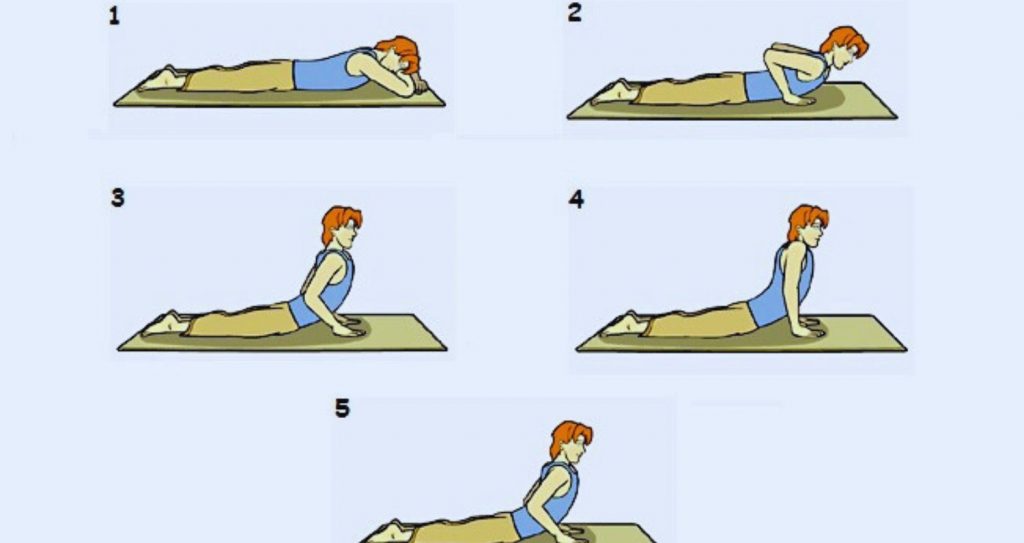 Starting Position:
Begin by lying flat on your stomach, with your forehead resting on the mat and your legs extended behind you.
Place your palms on the mat, directly under your shoulders, with your fingers pointing forward.
Inhale and Lift:
As you inhale, gently press your palms into the mat and begin to lift your head, chest, and upper abdomen off the ground.
Keep your elbows slightly bent and your hips and thighs on the mat.
Cobra Pose: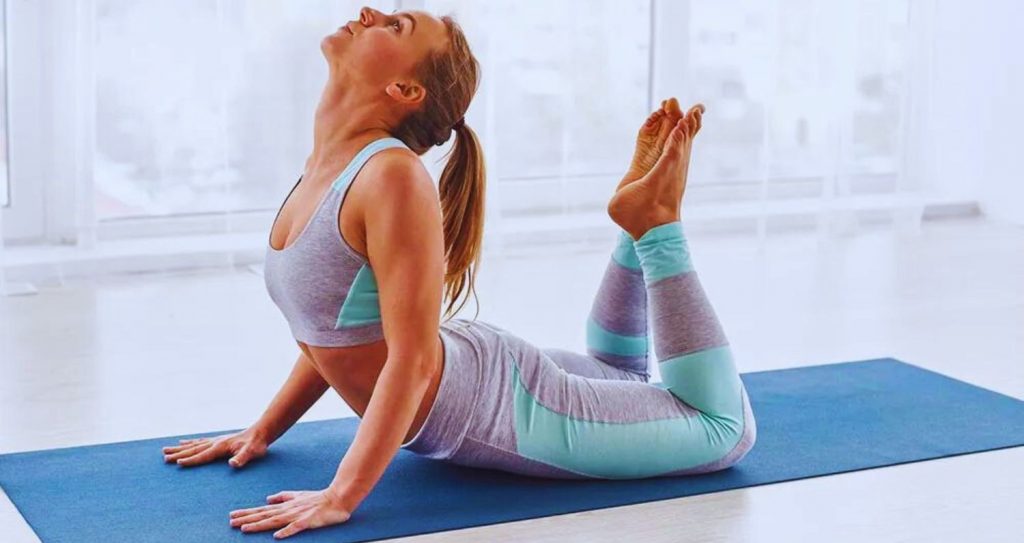 Continue to lift your upper body, using the strength of your back muscles, without straining your lower back.
Keep your gaze forward or slightly upward, and ensure your neck is in line with your spine.
Shoulder Blades and Hips:
Roll your shoulder blades back and down, opening your chest further.
Firmly press your pubic bone into the mat, engaging your glutes and lifting your hips slightly.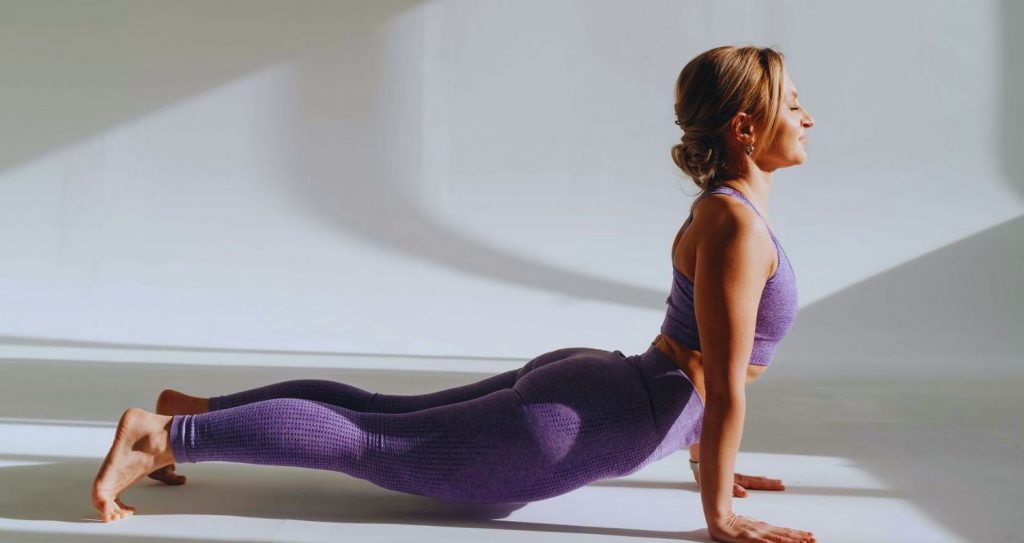 Hold and Breathe:
Hold the pose for 15-30 seconds, breathing deeply and evenly. Avoid holding your breath.
Exhale and Release:
To come out of the pose, exhale and slowly lower your upper body back down to the mat.
Rest your forehead on the mat and relax.
Benefits of Bhujangasana:
Strengthening the Back:
Bhujangasana strengthens the muscles in the back, including the lower, middle, and upper back, promoting better posture and spinal support.
Spinal Flexibility:
The pose stretches and lengthens the spine, improving flexibility and reducing stiffness.
Open Chest and Shoulders:
Cobra Pose helps open the chest and shoulders, enhancing lung capacity and aiding in deep breathing.
Digestive Health:
The gentle compression of the abdomen during the pose can stimulate digestion and improve digestive function.
Relief from Stress and Fatigue:
Bhujangasana helps alleviate stress and fatigue by promoting relaxation and increasing blood circulation.
Toning Abdominal Muscles:
This pose engages the abdominal muscles, helping to tone and strengthen the core.
Therapeutic for Back Pain:
When practiced with proper alignment, Bhujangasana can provide relief from mild back pain and discomfort.
Energetic Benefits:
Cobra Pose is believed to activate and balance the Manipura chakra, which is associated with energy, confidence, and self-esteem.
Precautions and Tips: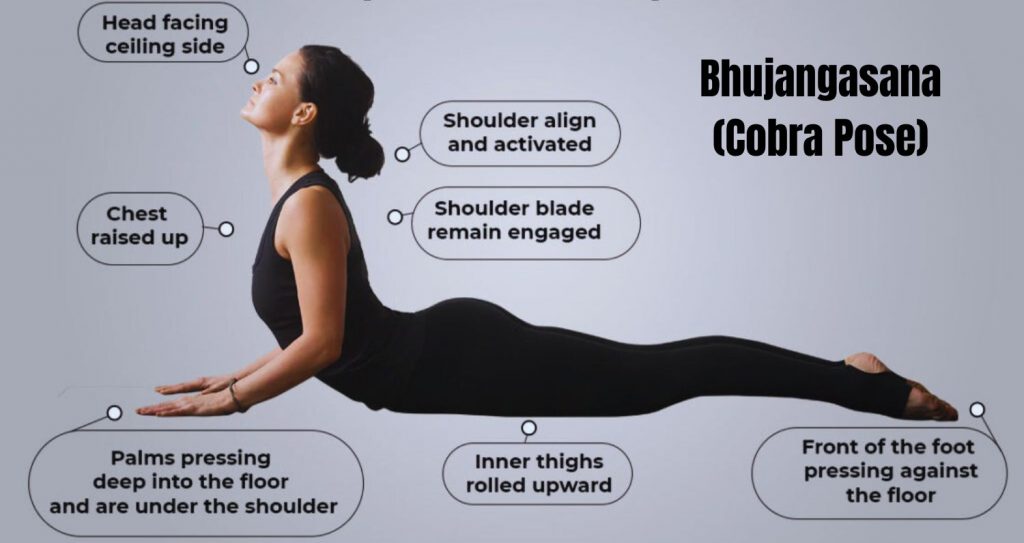 1. Avoid overexertion; only lift as high as your body comfortably allows:
It's essential to approach Bhujangasana with mindfulness and awareness of your body's limits. Overexertion can lead to strain or injury. As you lift your chest off the mat, focus on a gradual and controlled ascent.
Pay attention to your body's feedback and only lift to a point where you feel a gentle stretch without discomfort. Pushing too hard or trying to achieve an extreme arch can put undue stress on your spine and muscles, so prioritize a comfortable and sustainable lift.
2. If you have back injuries, herniated discs, or other spine-related issues, consult a healthcare professional before practicing Bhujangasana:
Individuals with pre-existing back conditions should exercise caution and seek professional guidance before attempting Bhujangasana. Certain spine issues, such as herniated discs or chronic back pain, may be exacerbated by improper practice.
Consulting a healthcare provider or a qualified yoga instructor can help you understand whether the pose is suitable for your specific condition and how to modify it safely.
3. Engage your core muscles to protect your lower back during the pose:
Engaging the core muscles is crucial to support your lower back and maintain proper alignment in Bhujangasana.
As you lift your chest, draw your navel towards your spine gently. This action stabilizes your lower back and prevents excessive arching, which could strain the lumbar region. By consciously activating your core, you create a strong foundation for the pose and distribute the workload more evenly throughout your torso.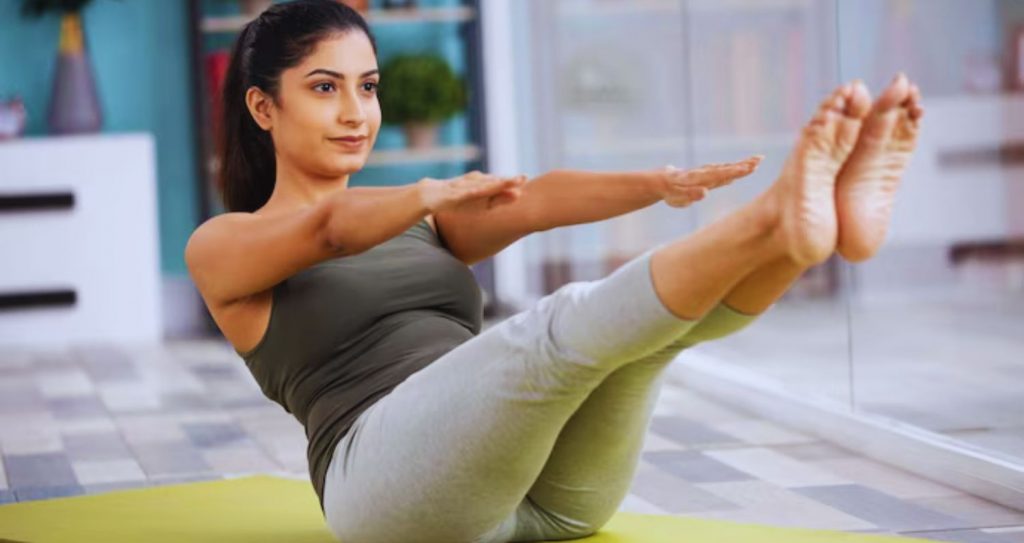 4. Ensure your elbows are slightly bent to prevent strain on your wrists:
While lifting the chest, it's important to avoid locking your elbows completely. Keep a slight bend in your elbows to prevent excessive pressure on your wrists and elbows. Straightening the elbows fully can strain the joint structures and lead to discomfort. The bend also allows for better distribution of weight and promotes a safer alignment of the upper body, reducing the risk of strain.
5. Modify the pose by keeping your lower abdomen and thighs on the mat if you're a beginner or have limited flexibility:
Beginners or individuals with limited flexibility can benefit from a modified version of Bhujangasana. Instead of lifting your chest high, focus on the initial stages of the pose. Keep your lower abdomen and thighs in contact with the mat while gently lifting your head and shoulders.
This variation provides a gentle stretch to the spine without overwhelming your muscles. Over time, as your flexibility and strength improve, you can gradually work towards a fuller expression of the pose.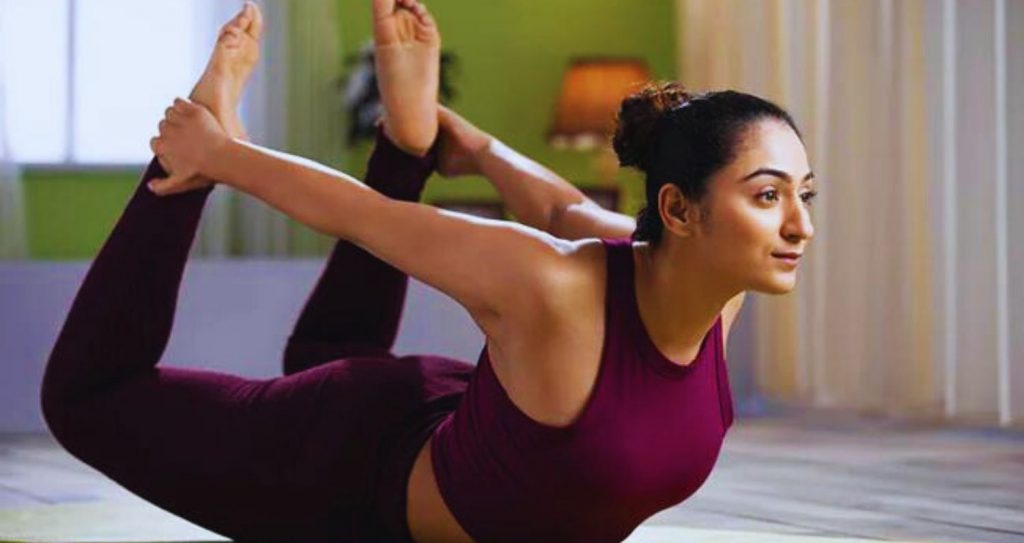 Conclusion:
Bhujangasana, known as the Cobra Pose in the world of yoga, presents an array of profound advantages that extend both to the physical and mental realms. Through consistent engagement in this timeless posture, practitioners stand to cultivate a fortified back, where muscles are nurtured and bolstered, contributing to a foundation of resilience and postural integrity.
The deliberate arching of the spine intrinsic to this pose acts as a conduit for the enhancement of flexibility, a gradual unfurling that echoes the body's innate suppleness. Yet, beyond its tangible effects, Bhujangasana weaves a tapestry of rejuvenation that transcends the realm of muscles and bones.
As you traverse the path of regular practice, a symphony of rejuvenation resonates through your being, resonating in whispers of vitality that infuse each breath. The art of mindfulness intertwines seamlessly with the asana, beckoning you to tread with intention, to listen intently to the messages your body shares, and to embark on a voyage of self-discovery through each subtle sensation.
In this union of movement and consciousness, the transformative power of Bhujangasana unfurls, bestowing upon you not only physical prowess but an avenue to connect with the inner sanctum of your being, fostering a profound sense of well-being.
So, step onto the mat with a heart imbued with reverence, embracing the harmonious dance of body and mind, and savor the odyssey of exploration that this revitalizing yoga pose graciously bestows.
FAQs Related to Bhujangasana (Cobra Pose) –
1. What is Bhujangasana, or Cobra Pose?
Bhujangasana, also known as the Cobra Pose, is a fundamental yoga posture resembling a cobra's raised hood. It involves arching the upper body while lying on the stomach, focusing on chest opening and spinal stretching.
2. How is Bhujangasana practiced?
Start by lying on your stomach, palms under shoulders. Inhale, lift your chest while keeping hips on the mat, and look forward. Maintain a slight bend in the elbows and engage back muscles.
3. What are the benefits of Cobra Pose?
Cobra Pose offers various advantages, including improved back strength, enhanced spine flexibility, open chest and shoulders, better digestion, stress relief, and core toning.
4. Can Bhujangasana help with back pain?
When practiced correctly, Bhujangasana can provide relief from mild back discomfort by strengthening back muscles and promoting proper posture.
5. Are there precautions for practicing Cobra Pose?
Yes, ensure proper alignment, avoid straining your back, and consult a professional if you have back issues. Engage core muscles and bend elbows slightly to protect wrists.